Since the launch of the EIC Accelerator until today, many companies (See Full list as of October 2020) have received EIC Accelerator blended finance. The blended finance option includes a maximum grant of up to €2.5 million and and equity investment of up to €15 million.
While the grant awarding process is smooth and usually delivered diligently, the equity investment process is taking much longer. Selected beneficiaries are complaining about delays and operations are reportedly taking more than one year to close.
As of 18th of May of 2021, only 7 operations have been reportedly closed. The following table contains the list of companies:
| | | | | |
| --- | --- | --- | --- | --- |
| Companies | Company website | Country | Mission | Field/Technology |
| CorWave | https://www.corwave.com/ | France | Solutions that restore a normal life with minimal side effects | Medical device |
| NilT | https://www.nilt.com/ | Denmark | Supplier of solutions for advanced optical components | Optical Technologies |
| Karos | https://www.karos.fr/ | France | Car sharing app for commuting between home and work | Mobility |
| Tessares | http://www.tessares.net/ | Belgium | Deliver faster internet | Communications |
| HiberGlobal | https://hiber.global/ | Netherlands | Industry leader in the next generation IoT core infrastructure | IoT |
| Gleechi | https://www.gleechi.com/ | Sweden | Software to enable hand movement and interaction for artificial hands | Virtual Reality |
| Faron | https://www.faron.com/ | Finland | Organ traumas, vascular damage and cancer immunotherapy | Biopharmaceutical |
We can see that the first operations approved have been mostly focused on what is generally regarded as "scale-ups" :
They all have more than 20 employees.
The sectors are varied including electronics, shared mobility, communications and pharmaceuticals, corresponding to deep-tech and health.
Surprisingly, there are no clean-tech companies included so far.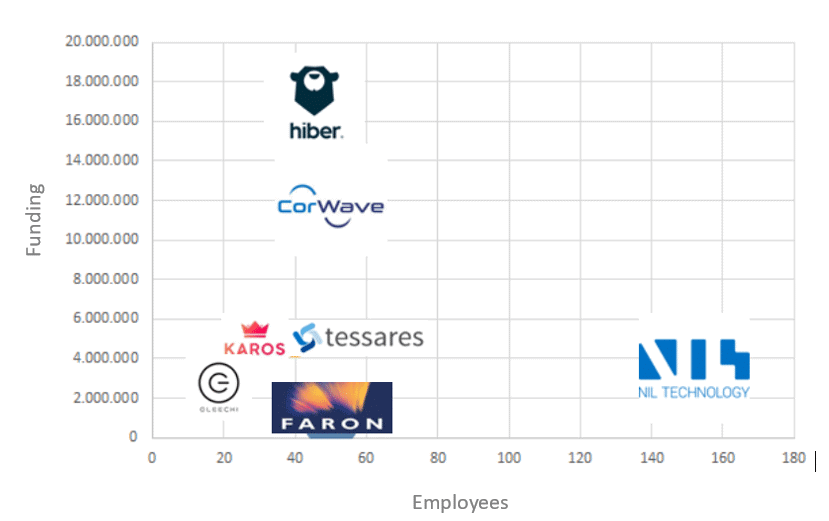 When assessing the specific operations, we observe the following characteristics:
The average grant component is €2.2 million (€2.5 million is the maximum).
The average equity component is €8.1 million (€15 million is the maximum).
The average funding round amounts to €15.8 million including all investors.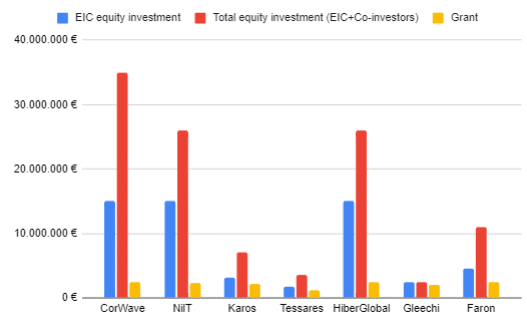 As we know of other operations that are currently involved in the due diligence process, we can report that not all pre-approved operations share the same profile. However, we can see that the EIC has found easier to close qualified operations in which the EIC Fund is not the lead investor and the co-funding amount not invested by the EIC is significant. Non-qualified operations are going through a longer investment and due diligence processes.
References
(1) European Innovation Council Fund Equity investments. February 2021.
(2) European Innovation Council Impact Report. September 2020.
(3) List of EIC Accelerator projects. October 2020.
Disclaimer: We have gathered information from news and diverse public data feeds. We apologize for potential inaccuracies. Unfortunately, we have not found any official EIC data repository communicating these data.