For some people, the Olympic games is the most awaited competition. For some others, it's all about football. But for some others, the EIC calls are the events of the year.
As the first call of this year was on March 23, 2022, results have been recently published:
74 companies have been funded by the EIC in the March 2022 call with a total of €382M,
Germany, France and Finland are the top 3 countries,
51% of the approved projects requested blended finance.
2022 EIC Accelerator cut-off
 From over 1000 start-ups and SMEs, 74 disruptive companies have been selected by the European Commission in the March 2022 EIC Accelerator cut-off. Through grants and investments, companies will receive €382 million of funding and/or equity investments, depending on their needs, worth up to €17.5 million. The following chart summarizes the EIC winners March 2022 per application type: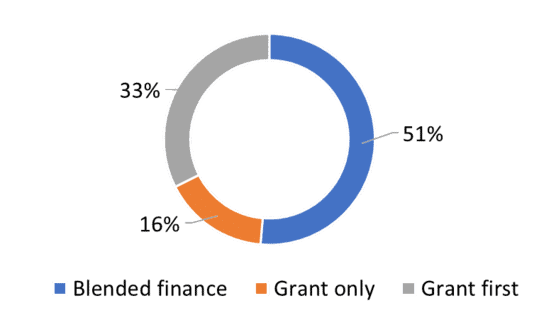 In this first cut-off of 2022, the geographical focus spread to 18 countries. The top 3 countries with regards tothe number of selected companies are Germany (20%), France (16%) and Finland (8%), while Poland and Portugal (4%), Bulgaria (3%) and Estonia (1%) are the are the countries with the fewest applications accepted. 12% of the applications come from Horizon Europe widening countries that are upgrading their levels of research and innovation, in line with the objectives of the European Research Area.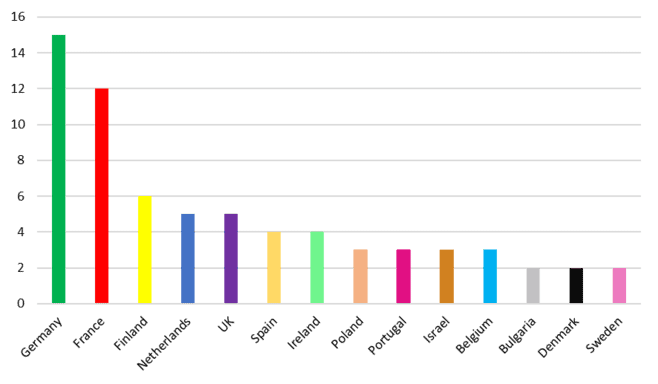 Within the selected projects and companies that will receive the support of the EIC, we find some of them that focus on the healthcare area, such as Seven Sense, from Estonia, or I-CREATE, from Finland. Others focus on the environment and energy field, such as LAYER, France-based, or Seawei Project, from Denmark. Finally, we find Magrail (from Poland) which has a focus on mobility, and the German Mushlabs, with a focus on biotechnology applied to food.
The table below includes the full list of winners:
| | | | | | |
| --- | --- | --- | --- | --- | --- |
| Company Name | Proposal Acronym | Short Description | Recommended Financing Type | Website | Country |
| Octave | iBEMS-SeLiBat | Integrated Battery and Energy Management System for Second-Life Battery energy storage | Blended finance | www.octave.energy | Belgium |
| regeneration bvba | Resortecs | Solving the challenge of multi-material garment recycling with thermal disassembly | Blended finance | www.resortecs.com | Belgium |
| XENOMATIX | SE€ | Unlocking LiDAR technology for European OEMS: For a future of smart and safe Traffic and Mobility | Grant first | https://xenomatix.com/ | Belgium |
| DRONAMICS Ltd. | Dronamics | The first European cargo drone airline | Blended finance | https://www.dronamics.com/ | Bulgaria |
| TRANSMETRICS AD | Transmetrics | The AI platform that optimizes logistics planning and asset management by leveraging the power of predictive analytics and artificial intelligence | Blended finance | https://www.transmetrics.ai/ | Bulgaria |
| Kvasir Technologies IVS | SEAFARER | Lignocellulosic oil: novel biofuel platform for maritime transportation | Grant first | https://www.kvasirtechnologies.com/ | Denmark |
| Seaborg Technologies | SEAWEI | Delivering Clean, Affordable, and Safe Nuclear Energy with the Compact Molten Salt Reactor | Blended finance | https://www.seaborg.co | Denmark |
| Seventh Sense | 7sense | Independent mobility to the blind and visually impaired using wearable remote touch sensing technology | Grant only | www.7sense.ee | Estonia |
| Aplagon Oy | APAC-ON | APAC – the first targeted therapy for peripheral arterial occlusive disease. | Blended finance | http://aplagon.com/ | Finland |
| Carbo Culture Oy | CARBONCAPS | CARBONCAPS – Efficient and verifiable carbon removal with ecosystem co-benefits | Blended finance | carboculture.com | Finland |
| CH-BIOFORCE OY | CHBPLANT | CH-Bioforce first-of-its-kind production plant | Blended finance | www.ch-bioforce.com | Finland |
| TILT BIOTHERAPEUTICS OY | I-CREATE | Fighting cancer with next generation oncolytic immunotherapy in ovarian, head & neck, and lung cancers (Immune Checkpoint Response Enabling Adenovirus Technology ) | Blended finance | http://tiltbio.com | Finland |
| SURGIFY MEDICAL OY | SSB2 | Surgify Safety Burrs for safer bone surgery | Blended finance | www.surgifymedical.com | Finland |
| Peili Vision Oy | VR4NEURO | Building the world's largest digital hospital for neurological challenges | Grant first | https://peilivision.fi/en/ | Finland |
| ALKION BIOINNOVATIONS | AlkaBurst2.0 | AlkaBurst2.0 – A game changing bioreactor for sustainable production of active pharmaceutical ingredients in a consistent, traceable and low cost approach | Blended finance | http://alkinnov.com/ | France |
| PREDISURGE | Confident | Confident®, the digital simulation platform that revolutionizes cardiovascular interventions | Blended finance | 0 | France |
| CAILABS | CROCUS | Coherent Rapid Optical Communication Under the Stratosphere | Blended finance | https://www.cailabs.com/ | France |
| Scipio bioscience | DEEP-IN-CELL | Innovative single-cell RNA-seq kit to detect the rarer and more significant cellular genomic expressions | Blended finance | https://scipio.bio/ | France |
| CONNECTING FOOD | DIGI-TRUSTY | DIGItal Twins of food pRoducts UnleaShing TransparencY | Blended finance | https://connecting-food.com | France |
| PERHA PHARMACEUTICALS SAS | DOWN-AUTONOMY | LCTB-21: A DYRK1A protein kinase inhibitor for treatment of cognitive decline in Down Syndrome. | Blended finance | https://www.perha-pharma.fr/ | France |
| Brainever | HOMEOBRAIN | Homeoproteins as novel therapies for neurodegenerative diseases | Grant first | https://brainever.com/ | France |
| DRACULA TECHNOLOGIES | LAYER® | Development of an organic photovoltaic module that generates energy from ambient light | Blended finance | https://dracula-technologies.com/ | France |
| KLEARIA | PANDa | PANDa – Portable Multi-ANalyzer for the Detection of metals in water | Grant first | https://www.klearia.com/ | France |
| Core Biogenesis SAS | SEB | Scalable and Eco-friendly Bioproduction | Blended finance | 0 | France |
| Sakowin SAS | South Beach | CO2-free, on-demand, on-site production of low-cost green hydrogen produced with micro-wave plasma | Blended finance | www.sakowin.com | France |
| Easyl SA | SUPERZINC | Sustainable powder materials for zinc rechargeable batteries | Grant first | www.easyl.fr | France |
| Freiburger Medizintechnik GmbH | AmbiJet | AmbiJet: the world's first and only highly effective plasma-based solution for Europe's 16 Million periimplantitis patients urgently needing help to avoid losing their dental implant | Grant first | https://www.frmed.de/ | Germany |
| ADJUCOR GMBH | Biventricular Epicardial Augmentation Technology | A revolutionary technology platform for providing life-saving treatment for end-stage heart failure patients | Grant first | www.adjucor.com | Germany |
| CODASIP GMBH | Codasip RISC-V Solution for High-end Processor IP | Codasip High-end processor IP and high-level design tools for RISC-V | Blended finance | www.codasip.com | Germany |
| Dermagnostix GmbH | DERMAGNOSTIX | Pioneering diagnostics in dermatology and cancer | Grant first | https://www.dermagnostix.com/ | Germany |
| Envola GmbH | Envola storage heat pump – a new product category | The Envola storage heat pump enables the world's first highly energy-efficient heating, cooling and ventilation system significantly reducing energy consumption and greenhouse gas emissions in Europe. | Grant first | www.envola.eu | Germany |
| LiveEO GmbH | EOinTime | Satellite-based change detection and predictive monitoring of infrastructure grids based on high resolution data | Grant onlu | https://live-eo.com/ | Germany |
| ConstellR GmbH | HiVE | Precise, Global Temperature Data for a Growing Planet | Blended finance | https://constellr.space/ | Germany |
| Crocus Labs GmbH | miniSun | Disrupting the horticulture industry with smart lighting solutions | Blended finance | https://crocuslabs.com/ | Germany |
| Mushlabs GmbH | Mushlabs | Using biotechnology to create the next generation of sustainable foods from the roots of mushrooms | Blended finance | https://www.mushlabs.com/ | Germany |
| NUVENTURA GMBH | Nuventura | Novel dry air switchgear technology to reduce industry's dependence on SF6 | Blended finance | https://www.nuventura.com/ | Germany |
| TWAICE Technologies GmbH | Predictive Battery Analytics | TWAICE predictive analytics and digital twin ecosystem to optimise and automate batteries second life and reuse | Grant only | www.twaice.com | Germany |
| Thericon GmbH | rMSI | Real-time multi-spectral imaging for accurate detection of cancerous tissue in endoscopic surgery | Grant first | https://www.thericon.com/ | Germany |
| alocalo GmbH | SmartOnlineSalesRedirecti onPlatform | Novel AI-based shopping platform for 100% product supply transparency and smart redirection from ecommerce platforms to local retail to create a resilient European retail sector | Grant first | https://alocalo.de/ | Germany |
| VesselSens GmbH | StentGuard | Clinical validation of the First Implantable Sensor System for Wireless detection of stent occlusion/ restenosis | Grant first | https://vesselsens.com/ | Germany |
| COMPUTOMICS GMBH | TRAIT4.0 | TRansition to agriculture 4.0: increasing crop resiliency with Artificial Intelligence Technology | Blended finance | https://www.computomics.com/ | Germany |
| DT EQUIPMENT EHF | IREAS | Intelligent Real-time Elemental Analysis System | Blended finance | www.dte.ai | Iceland |
| Venari Medical Limited | EnVena | Automatic vein wall disruption, triggering the body's natural cellular healing response to close targeted veins curing Venous Leg Ulcers | Grant first | www.venarimedical.com | ireland |
| LOCI ORTHOPAEDICS LIMITED | InDx CMC Implant | The InDx CMC Implant. A new treatment for thumb base joint arthritis | Blended finance | www.lociorthopaedics.com | ireland |
| OVAGEN GROUP LIMITED | Ovavax2 | Accelerating scale up and commercialisation of 100% bacteria free eggs for use in production of vaccines | Blended finance | http://www.ovagen.ie/ | ireland |
| Selio Medical Ltd | Selio System | Development and commercialisation of a novel needle tract sealant system for pneumothorax prevention during lung biopsy | Grant only | https://seliomedical.com/ | ireland |
| Restore Medical Ltd | Contraband | ContraBand: the only heart failure medical device that is placed outside the heart | Grant first | https://restoremedical.co/ | Israel |
| EZMEMS LTD | DETERMINATION | EDGE MULTI SENSING FOR MEDICAL AND PHARMA APPLICATIONS | Blended finance | https://www.ezmems.com/ | Israel |
| GenetikaPlus Ltd | RxMine | A simple blood test to choose the best treatment for each patient with depression | Grant first | www.genetikaplus.com | Israel |
| RISE TECHNOLOGY SRL | iSPLASH | Industrial Selective PLAting for Solar Heterojunction | Grant first | http://www.2bg.it/ | Italy |
| HY2CARE BV | ACTIVE | Articular Cartilage Treatment with Injectable hydrogel is Valuable and long-term Effective | Blended finance | www.hy2care.com | Netherlands |
| ATRO Medical | AL U KNEED | First in class lateral meniscus prothesis to relieve pain and restore mobility for KOA patients | Grant first | www.atromedical.com | Netherlands |
| QuantWare B.V | DEMOQC | Democratizing quantum computing with 3D scalable and customizable quantum processors | Blended finance | https://www.quantware.eu/ | Netherlands |
| AMT MEDICAL RESEARCH BV | ELANA® | Bypassing open heart surgery with Excimer Laser Assisted Non Occlusive Anastomosis (ELANA®) | Grant first | https://www.amt-medical.nl/ | Netherlands |
| Qu & Co B.V. | Qu&Co-Flow | Quantum software platform for multiphysics simulations | Blended finance | https://quandco.com/ | Netherlands |
| INVIVO BIONICS AS | PRESSURO | A life-changing PREssure Sensor System for UROdynamics to solve global urinary storage and voiding problems | Grant first | https://www.invivo.io | Norway |
| Ecopolplast spolka z o.o. | Ecoplastomer | Breakthrough Technology for Plastic and Rubber Waste Circular TPE | Grant first | https://ecoplastomer.eu/ | Poland |
| Camino Science sp. z o.o. | in silico bio-evolutio | in silico bio-evolutio – novel AI paradigm for molecular biology | Grant first | 0 | Poland |
| HYPER POLAND SPOLKA Z OGRANICZONA ODPOWIEDZIALNOSCIA | Magrail | Welcome to the age of frictionless mobility | Grant first | https://www.nevomo.tech/en/ | Poland |
| AI4MedImaging Medical Solutions S.A. | AI4CMR | AI-based clinical software for fully automated Cardiac Magnetic Resonance reporting | Grant only | https://ai4medimaging.com | Portugal |
| Peek Health, S.A. | PeekMedAuto | Novel AI-based system for orthopedic surgery to help surgeons fully automate the pre-operative planning of knee osteotomy | Grant first | www.peekmed.com | Portugal |
| WATGRID LDA | Winegrid | Real time data collection and analytics platform for automatic adjustment of vinification process parameters, a path toward sustainable precision vinification | Blended finance | https://www.winegrid.com/ | Portugal |
| SAALG GEOMECHANICS SL | GEORGIA | GEOtechnical deRisk by Genetic Inverse Analysis | Blended finance | https://www.saalg.com/ | Spain |
| NEOS NEW BORN SOLUTIONS SL | NEOSONICS | The first medical device for non-invasive detection and monitoring of infant meningitis | Blended finance | http://newborn.solutions/ | Spain |
| Alcyon Photonics SL | SPHUN | Smart PHotonic devices Using Novel metamaterials | Blended finance | https://alcyonphotonics.com/ | Spain |
| IGNION SL | TRIO++ | The First Miniaturized 
Non-Resonant Antenna Tailored to 
Internet of Things Applications | Blended finance | https://ignion.io/ | Spain |
| Elicera Therapeutics AB | CD20CARNAPT | iTANK: a nuniversal technology to boost the efficacy of CAR T cell therapies by inducing dual mode-of-actio | Grant only | https://www.elicera.com/ | Sweden |
| XENERGIC AB | HIGH-MEMO | Ultra-High Speed memories for unprecedented cloud-computing performance | Grant only | www.xenergic.com | Sweden |
| Cellevate | SBMP-microcarrier | SBMP – disrupting the manufacturing of biological drugs through a ground-breaking nanotechnology-based microcarrier | Blended finance | https://www.cellevate.com/ | Sweden |
| CATTLE EYE LTD | DAIRYSCORE | Scalable, Autonomous and Continuous AI-based Video Monitoring to Improve Animal Welfare, Increase Performance and Reduce Carbon Footprint | Grant only | https://cattleeye.com/ | United Kingdom |
| hyperTunnel Limited | hyperSwarm | Swarm construction to deliver disruptive step-change improvements to tunnelling | Grant only | www.hypertunnel.co.uk | United Kingdom |
| MULTUS Biotechnology Limited | Multus Media | Enabling affordable and sustainable cultivated meat with a first-in-class growth medium. | Grant only | https://www.multus.media/ | United Kingdom |
| ARC Marine LTD | RESP | Reef Enhancement Scour Protection | Grant only | https://www.arcmarine.co.uk/ | United Kingdom |
| Nemesis Bioscience Limited | Transmids | Inactivation of antimicrobial resistance (AMR) genes in an animal gut microbiome and prevention of horizontal AMR gene transmission | Grant only | http://www.nemesisbio.com | United Kingdom |
By Sara Gavidia